The company began operations in 1976 as a general printer under the leadership of a sole proprietor who was experienced in the OMR industry. In 1980, the company incorporated and began to concentrate solely on the development and production of scanning cards and sheets. The company quickly proved to scanner manufacturers and to scan form end users that Lincolnshire Printing could be depended on to provide a reliable product.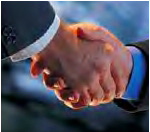 By 1985, Lincolnshire had established a reputation as an innovator in the creation of scan forms for the scanning manufacturers. However, it became apparent that the company also provided invaluable services to startup companies by offering scanning solutions, card design, software assistance, and recommendations for scanner hardware. Nevertheless, the focus had always remained on the actual printing services offered.
In 1999, Lincolnshire created a new division – Lincolnshire Scanning Systems. This division focuses on the imaging of forms, the actual scanning of completed forms, and the printing and distribution of any related reports. This division is also involved with the selling of various scanners and our own "generic" software program (LPScan), as well as the writing of custom programs and packages.
To continue operations in an ethical and fiscally responsible manner while serving the needs of our existing and potential clients in the OMR scanning environment.
"Big enough to get the job done and small enough to treat each customer with respect"
We have been the behind the scenes printer in this industry even before 1980 when we converted our printing operations to specifically focus in this industry. We are the manufacturer of the printed forms you see everyday in many different environments: Healthcare (Health Risk Appraisals); Gaming forms and systems for the gambling industry (tracking high rollers, keno, etc.); forms and systems for various sport score collecting and computations (tournaments, averages, handicaps, etc.); Trucking industry (Driver log books, scannable inspection sheets); Education (standardized testing and scoring); Government (ballots, voting sheets, and cards); and in industries where the ability to quickly gather information for research analysis are vital to their marketing research.
In-house operations, experience, and our competitive pricing. We take pride in the quality and integrity of not only the forms we produce, but in the relationships that we build with our clients. Many of which have started with the owner sharing a vision with us and through a few years working together, sharing in the excitement of their success as they grow into multi-million dollar operations.